Welcome to Downtown Welland!
Experience shopping at quaint and unique shops and boutiques. Experience our rich History and Heritage. Experience Welland Bridge #13 and the night lighting of this historical and magnificent structure. Take in the Welland Farmer's Market or a Concert on our beautiful floating amphitheatre. Enjoy a quick bite at a cozy bistro, a delicious meal at one of our fabulous restaurants, or a quick cuppa from our coffee lounges and cafes.
There are myriad ways to explore Downtown Welland and we hope you'll visit us soon. Stay connected with what's going on downtown via social media and explore our website to learn more about our tight-knit community.
Come Downtown and Experience our Heart!
Latest News from the Welland Downtown BIA

*|MC:SUBJECT|* *|MC_PREVIEW_TEXT|* News, updates, and so much more... What OBIAA asked for on behalf of our Main Street Small Businesses When OBIAA met with Minister Valdez on August 30, our ask was simple, we called upon the Federal Government to enact...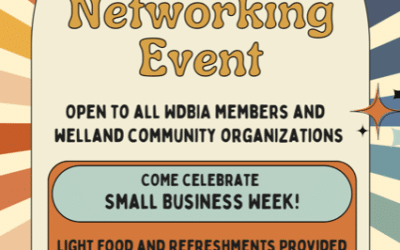 Join us at the WDBIA Business Networking event to celebrate Small Business Week!! The location is 60 Niagara Street, Welland in the Bridgewater Brewery from 5pm to 7pm!